I am absolutely thrilled to have brought together this amazing list of companies to bring you a fabulous festive Christmas Advent Giveaway!
When I first came up with this idea ( a sudden spark of inspiration!), I had no idea how many fabulous companies would agree to be involved, and I am completely overwhelmed by not just the number of companies, but also their generosity.
For now, I am going to keep their prizes a secret, this will be revealed later next week. I want to introduce these wonderful businesses and all that they offer, in the hope that you go and check them out, give them a follow on social media, and perhaps even purchase a Christmas gift from them.
At the heart of this competition, are independent businesses. We know this blog post is an epically long one, but give it a scroll and find out more about everyone.
So without further ado, the list of fabulous companies involved are ….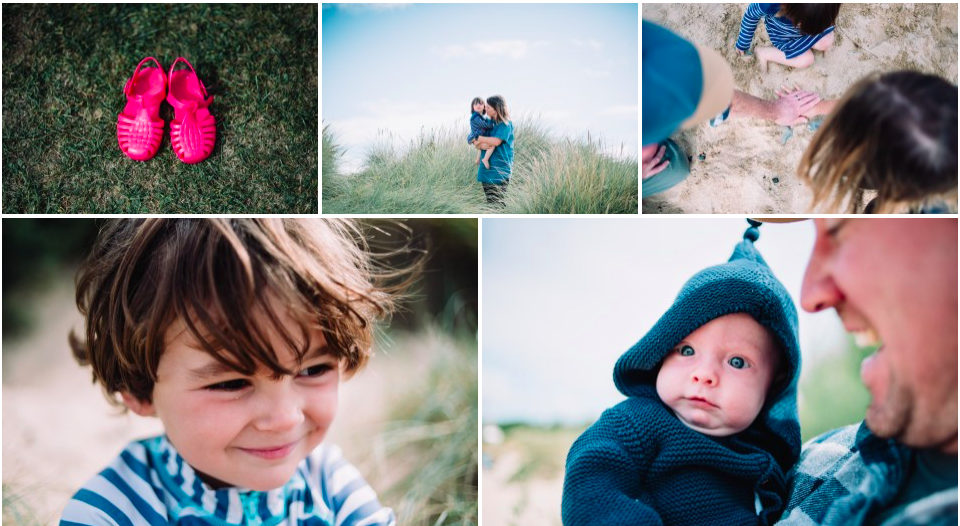 Liberty Pearl Photo & Film – Liberty Pearl are the magic six. Six creative photographers and filmmakers who have been capturing romance for the past six years. With over 500 weddings shot between us, we specialise in inventive, emotive images taken of heart-racing romance.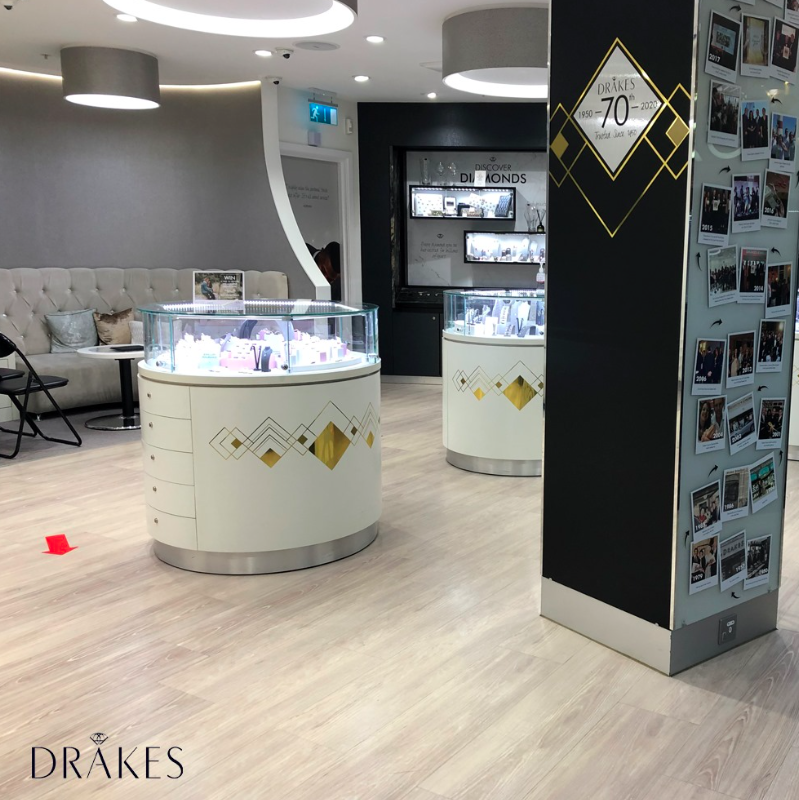 Drakes Jewellers – Drakes was founded back in 1950 by the late Harry Hirshman. Harry's son John joined the business in 1954, taking over the reigns and becoming Managing Director in 1975 upon Harry's retirement. John is now joined by his son Andrew, daughter Monique and Jennifer, who is the first Director outside of the family. Together they are the driving force behind the business today.
Feed.Move.Live (Imperium Gym) – FML comes from the desire to simplify fitness, by bringing it back to three basic principles, what you eat, how you train, and the ability to live life to the fullest.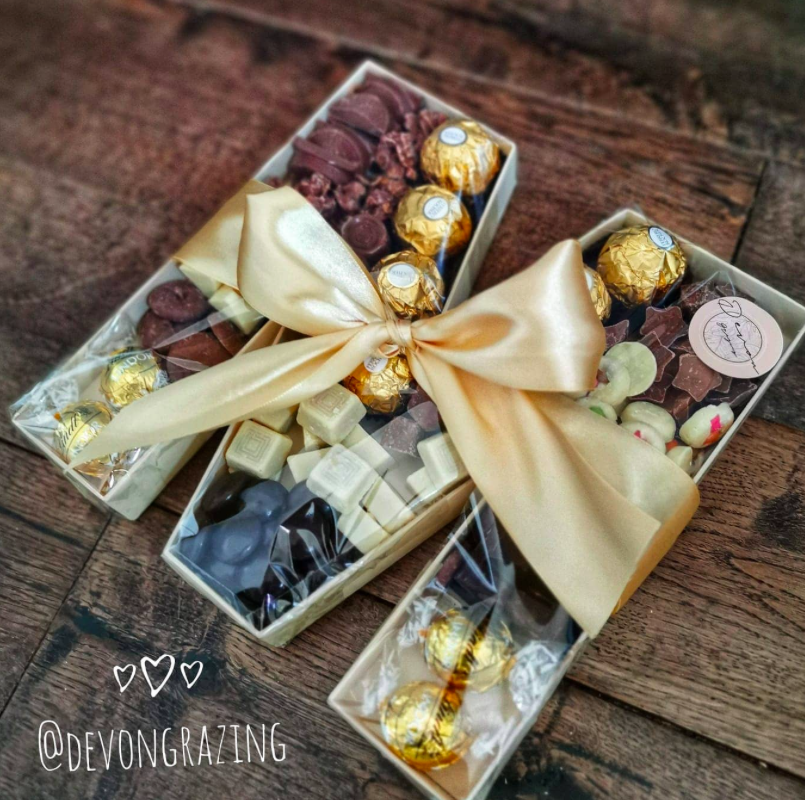 Devon Grazing – We have taken the hard work out of entertaining guests and designed the boxes To cater for you all, whether it's for just you and your partner or if it's a large get together of family and friends, now all you have to do is keep the wine topped up and the conversation flowing.
Honky Tonk – With a strong passion for wine, we wanted to create a place where you can taste and purchase wines from around the world.
Our concept is definitely a hybrid one because we're not only a shop, but also a wine lounge. You can taste delicious locally sourced deli-food platters, relax in a welcoming sanctuary away from the hustle and bustle of daily life and purchase your favourite wines to enjoy at home.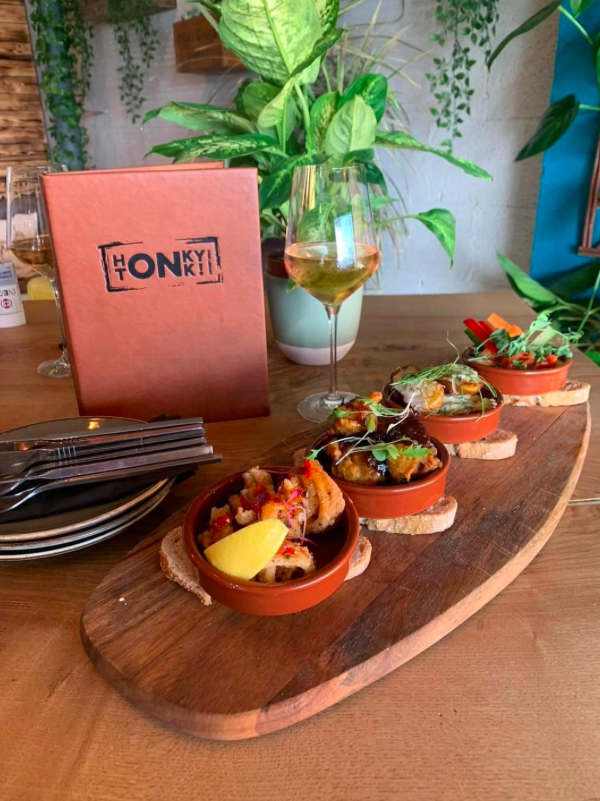 Michael Spiers Jewellers – Michael Spiers is the South West's leading independent jewellery and watch retailer. We have sold and crafted exclusive, luxury jewellery and watches for more than 60 years.At Michael Spiers we see ourselves as one big family. As an independent, family-run business, we care about each and every one of our customers and take helping to create memories for everyone that walks through our doors very seriously. Our customers become our friends, and we take pride in being a small part of their special moment.
Porsham Cakes – Here at Porsham Cakes we design, bake and decorate a whole range of unique cakes for every occasion. we love making cakes and only use the finest ingredients. So your cake will not only be beautifully designed and decorated, it will taste delicious.
Dawn Atiba Hair – Dawn is an award winning hair stays. She specialises in wedding hair as well a complex colour work. She offers a 1-1 professional service
Nicola Hurst Designer Jewellery – Nicola Hurst pursued the Arts and graduated from Middlesex University with an honours degree in Jewellery. Having lived in the Home Counties engaging herself in designing and making jewellery from three successive workshops; distributing to galleries all over the UK and specializing in commission work. She returned to her native Plymouth after a period of 20 years. It has always been her dream to have her own gallery and workshop and this dream was fulfilled at Nicola Hurst Designer Jewellery in Hyde Park Road, in 2006.
St. Elizabeth's Hotel – Located in the stannary town of Plympton St Maurice, on the edge of Plymouth in Devon, St Elizabeth's House is a beautiful example of a plush Georgian manor. It was built in the 17th century, and used as a convent for some of the last century. Following a sympathetic upgrade and spectacular conversion, the house took on its current form as a hotel.
Today, St Elizabeth's House offers boutique accommodation and a variety of hospitality-related services. Welcoming guests from far and wide, this independent family-owned hotel is prized for its designer interiors and friendly service. But people also love the views and tranquillity of the gardens and acres of sweeping grounds which surround the hotel, stretching out to the South Hams countryside beyond.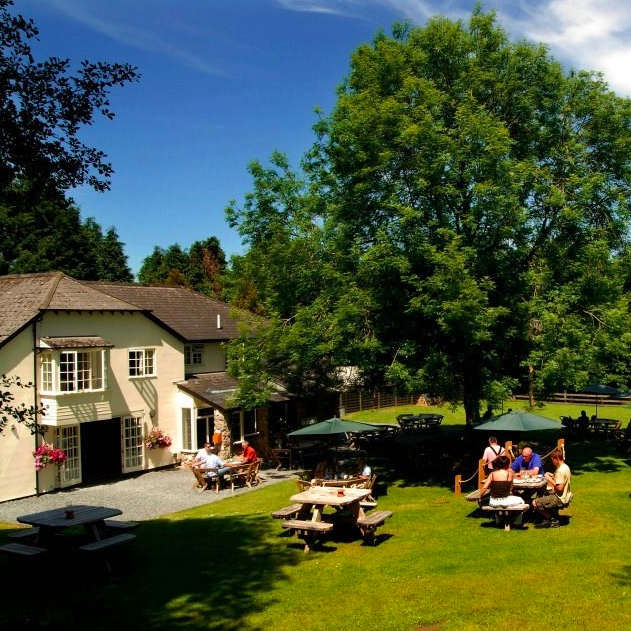 Turtley Corn Mill – The Turtley Corn Mill is set in six acres of grounds within the beautiful South Hams. Whether it's a family meal, breakfast, Sunday lunch or a romantic dinner for two our traditional menus – using locally sourced foods – real ales and great wines make it the perfect place for eating out in south Devon. We also offer Bed & Breakfast should you feel like staying the night in one of our luxurious en-suite bedrooms.
Blush Bakes – Blush Bakes specialises in bespoke, luxury baked goods for all occasions, ages and buyers. With the best quality ingredients, unique designs and Charlotte's attention to detail Blush Bakes have become the go-to for gifts, party favours, celebrations and much more.
Plymouth Gin – The home of Plymouth Gin. Wherever you are on your gin journey, there's no better place to start than Plymouth. Our craft began way back in 1793, and we've never stopped searching for the new.
La Beau – The friendly La Beau team is packed with endless talent and skill to get you looking your best, and our opulent, shabby chic nail boutique has been carefully designed to make you feel extra special.
Younger Photography – Andrew & Aga are proud to be a members of internationally recognised, qualifying organisations including the BIPP (British Institute of Professional Photography), MPA (Master Photographers Association) and SWPP (Society of Wedding & Portrait Photographers). Our mutual bond for natural wedding photography, our knowledge, qualifications and experience behind a lens has helped us to bloom in the wedding industry.
Wild Sea Calligraphy – Lyndsey absolutely loves all things calligraphy, so much so that she absolutely loves teaching calligraphy workshops too. You may know her for her work with @anon_design – this is solely for calligraphy workshops only. Lyndsey's workshops are fun, relaxing, nourishing, and rewarding – gift yourself a couple of carefree hours, in an inspired location, and master a versatile new skill. Sound good? By the end of our session you will be able to re-create a favourite quote, short reading, or your own chosen words beautifully and with great confidence. You will also have probably eaten something seriously yummy and chuckled at least once – you have been warned!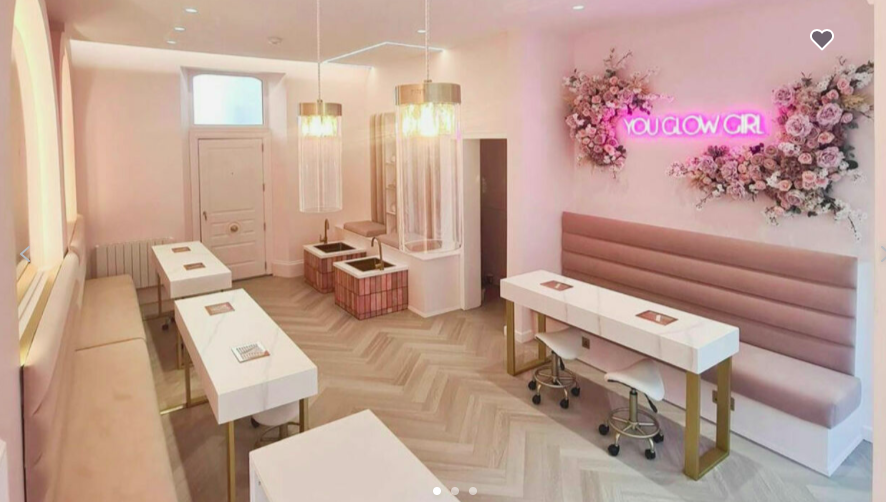 The Glow Up Nail Bar – The Glow Up Nail Bar offers a full range of professional acrylic, The Gel Bottle and Glitterbels nail treatments, extensions, manicures and pedicures. Cruelty-free and vegan products are available at this chic pink Plymouth salon, where you can choose to add nail art for a truly individual style nail. The friendly, talent team is literally at your fingertips!
Art by Scott Colton – I am an animal artist painting primarily in watercolour and ink, and inspired by the stunning South Hams in which I live. My most popular range of products are my mounted prints, which make wonderful gifts – for yourself or some else! All are available to purchase in my online shop.I love working on commission pieces for clients in Devon and further afield, with pet portraits being a particular favourite.
Finally, I have created a range of stunning homewares from my original artwork, including mugs, tea towels, cushions, aga and rayburn covers, all of which can be purchased from here.
We are proud that every piece is 'Designed in Devon' and printed in the UK.
Steel Brew Co. – We started back in 2018, brewing out of a garage. We now have a brewery and taproom based in Plymouth's historic Royal William Yard! We are based in the Grade 1* listed Melville building, the centrepiece of the yard.
We brew beers for every occasion with our 4 signature beers Mantra, Plymouth, Bombshell and Breakwater and then lots of one off beers or our special IPAs which will rotate in our taproom. Our beers have been stocked by the world famous Plymouth Gin Distillery and award winning wine bar and our new neighbours Le Vignoble!
The Bluebeard Revenge – Established in 2010, The Bluebeards Revenge is a men's shave, beard, hair and body grooming brand based in the South West of England. From its coastal roots, it has amassed a global appeal thanks to its light-hearted approach to serious skin, beard and hair care.
Dartmoor Skincare – The skin is extraordinarily resilient, but it needs to be treated with tender loving care and pampered with sympathetic ingredients such as cold pressed oils and unrefined cocoa butter, not with products containing harsh additives that can irritate the skin.
I am very aware of skin sensitivity as both my children suffered from eczema when they were little. I started researching the ingredients in baby care products and discovered that if I avoided sulphates, their flare-ups would disappear. This is how my passion for skincare originally began.
All my products are made primarily from naturally derived ingredients, including cold pressed organic oils and unrefined organic butters. As these ingredients are less processed, they contain more vitamins, minerals, antioxidants, phytonutrients and fatty acids.
Norsworthy Photography – Martyn is multi International award winning Photographer. Passionate about Photography, Martyn says, I see an Image, create an Image and capture personality and emotion.
I've met some amazing people, photographed Celebrities and Royals. But the wedding couples, the families and the wonderful places photography as brought to my life is what always make my heart swell.
Phiebe Art – Josie Hasan is super talented artist, she says, 'attempting to capture the beauty of the world through my fingers. I am experienced with working in graphite as well as coloured pencil and more recently digital art. I have previously completed commissions for customers all over the world. I create realistic and extremely detailed portraits including animals ranging from equestrian, canine, safari as well as human portraits. I specialise in creating these portraits from your own photographs that you have provided me with. I create a bespoke one of a kind memory that lasts forever. My attention to detail is paramount and I try my best to capture the personality and spirit of the subject in question'.
The Mewstone Candle Company – We established The Mewstone Candle Company in 2016 and have been fanatical about making beautiful and quirky fragranced candles ever since.
Not being able to find fun fragranced candles on the market we decided to take matters into our own hands and started getting a little creative. Chaos ensued for many months until one wet and windy afternoon in October there was an excited yelp from the candle kitchen as we finally got it right! Ever since we started selling our candles at local craft fairs and events we have tinkered away, perfecting every candle, as we pour a whole lot of care into each and every one, so you get to experience what we have always been dedicated to since day one. Each candle is hand mixed, hand poured, labelled and packed and that's how we plan to keep it.

Adrenaline – Adrenalin's aim was to bring something awesome and active to Plymouth that people of all ages would be able to love and enjoy. The park has been designed to ensure we have fitted in as much adrenalin filled equipment as possible in order to make an epic adrenalin experience for everyone. We are proud to offer a safe and fun environment where everyone can enjoy high adrenalin activities like our interconnected trampolines, tumble tracks, professional trampolines and ninja challenge courses. The park is also fitted with a state of the art sound and lighting system which allows us to create an even more epic and Adrenalin filled environment once the sun goes down.
Hive Cafe – As an independent, we pride ourselves on our customers experience. From our comfortable and Relaxed atmosphere to our carefully sourced and prepared menu, every aspect has been lovingly crafted to create a space and service that is treasured by our customers.
Like Coffee? You will love our carefully selected Organic Artisan coffee. Fancy something cooler? Get refreshed with one of our delicious Smoothie combinations. Want a Treat? Add a slice of our homemade Cakes and slices. Looking for something more filling? Dine in or out on our delightful range of Bagels, Burritos and Toast options.
Lace & Lattice – Lace & Lattice has been created within the beating heart of our home and around our son's life! I've dreamt about being a bride most of my life and I'm lucky enough to have found my "Mr Big" aka John (I know uncanny right same as Carrie Bradshaw herself) As you may have guessed I'm also a lover of SATC.
I would love L&L to become the UK's number one go to for bridal gifts, seasonal items by supporting British Brands, Sourcing Sustainable Products and also making our own garments using sustainable materials.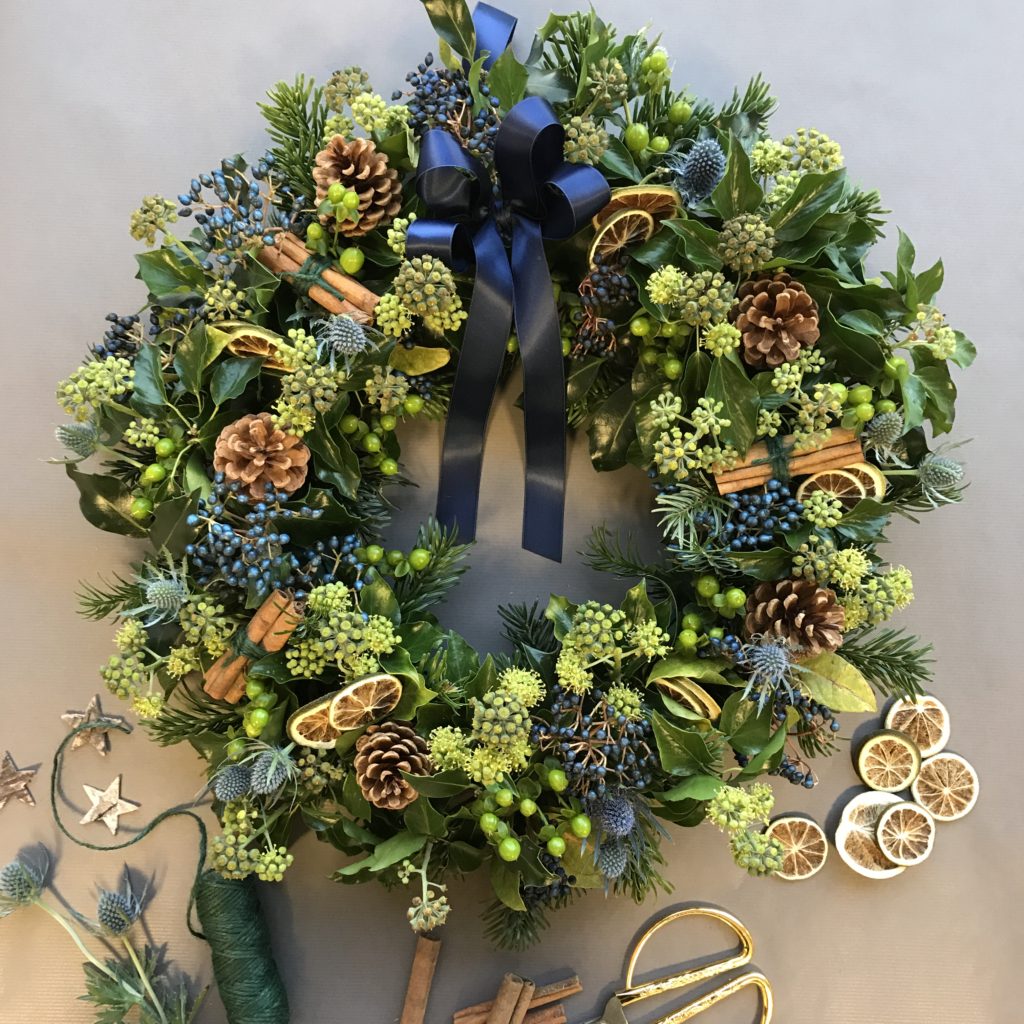 I haven't of course mentioned myself, but we are equally excited to be giving away fabulous prizes throughout the month to our lovely competition winners.
So how will it work I hear you say!? On November 30th, there will be a post on Hannah Burnett Florist facebook page. You will have to like, share and comment this post to be in with a chance of winning a prize. The commenting bit is vitally important so the we can contact you easily if you have won!
Over the 24 days leading up to Christmas, one person who has liked the post will be chosen at random to win a prize. The prize will be a surprise until we pick a name!
Sadly, you cannot win twice, and so if your name is chosen more than once, we will re draw.
Obviously, prizes cannot be exchanged for cash alternatives.
I really hope that you are as excited about this as I am about this! This is an absolutely amazing giveaway with so many businesses involved.
Can't wait to share more with you next week!
Hannah x
​